When:
November 11, 2023 @ 9:00 am – 2:00 pm
2023-11-11T09:00:00-05:00
2023-11-11T14:00:00-05:00
Florida Concealed Carry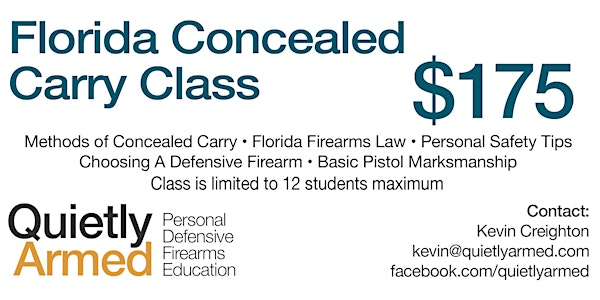 When you're choosing a concealed carry instructor, you're choosing someone who can provide you with the skills to save your life or the life of a loved one.
My name is Kevin Creighton, and I run Quietly Armed. I am a full-time professional firearms writer for the National Rifle Association, and I teach firearms training in the Naples area. I am not your typical "fly by night" firearms instructor. I put in the time and energy into my classes in order to make sure you receive the best possible instruction. Here's just a few of things that set my classes apart from the others:
The state of Florida requires instructors to have just 24 hours of training before they can teach a concealed carry class.
I have over 900 hours of firearms instruction.
State law says that if you can pull the trigger of a gun and make the gun go "bang!," you have enough training to defend your life.
I teach you how to place your shots on-target when literally everything depends on your marksmanship.
Other instructors talk about their military or law enforcement experience.
That's great, but how is that relevant to you in your daily life?
I'm just like you. I enjoy the relaxed lifestyle we have here in Naples, and I want you and your loved ones to keep enjoying your lives and to keep you safe from those who would do us harm.
Driver's license or state-issued ID required.
You will need a pistol and 50 rounds of ammo for the range day as well as eye and ear protection. Please do not bring your pistol to the initial classroom session. If you do not have a pistol and ammo, those are available for rent for an additional fee.
Methods of Concealed Cany
Florida Firearms Law
Personal Safety Tips Choosing A Defensive Firearm
Basic Pistol Marksmanship
Class is limited to 12 students maximum
Students will qualify for not only their Florida concealed carry permit, but have a chance to practice other tests and drills as well.