When:
November 12, 2023 @ 9:00 am – 2:00 pm
2023-11-12T09:00:00-05:00
2023-11-12T14:00:00-05:00
Pistolcraft 102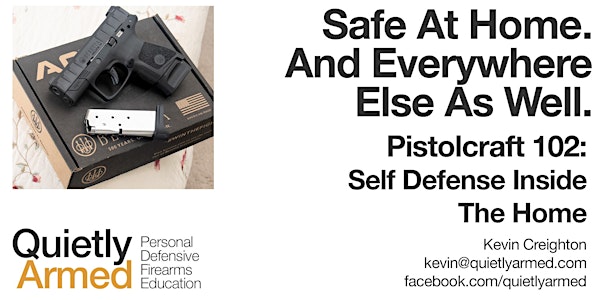 About this event
This three-hour class covers a topic that is easily overlooked by American gun owners. Having a gun for self-defense means keeping it near you when you're out and about AND when you're in your home.
Over 60% of assaults happen during a home invasion
65.1% of people personally know their thief
95% of burglaries involve a forceful entry into the home
The average burglary lasts only 8 to 10 minutes
Crime statistics tell us what the bad guys are looking for when they enter a home, and this forms the heart of what will be taught in this class. Rather than go into endless "what if" scenarios, we give you straight-ahead solutions to the terrible problem of an armed home invasion. This in turn means you can rest easier at night, knowing those under your care are safe and sound.
Students will be drawing from a holster and moving with a firearm in their hands in this class, as well as participating in dfenive drills that push their ability to process information while engaging a target. Therefore, for safety reasons, completion of the Pistolcraft 101 or an equivalent post-concealed carry firearms training class is a requirement for taking this class. Please contact us with any questions about your prior training experience.
A pistol (9mm or larger caliber preferred)
100 rounds of practice (FMJ) ammunition
Two or more spare magazines
A holster, Outside the Waistband (OWB) preferred
A magazine pouch to store a spare magazine on your person
Eye protection, ear protection, sunscreen, water